Formidable Google Forms Made Effortless!
Google Forms Templates offers you:
Data collection without the time or effort
Professional design consistency
An easy way to customize and make your own

Integrated into Gmail No extra software!

Google Forms Templates by cloudHQ provides you with beautiful and professionally-designed Google Forms for all your data collection needs!
Browse Google Forms
Tailored to Your Unique Needs
Google Forms Templates provide a vast collection of templates tailored to suit diverse industries and purposes. Among the most sought-after categories are:
Education forms
Sign-up forms
Registration forms
Report forms
Request forms
Marketing survey forms
Invitation forms
Feedback forms
Human Resources forms
Business forms
No matter your niche or industry, there's a Google Form template available to match your specific needs.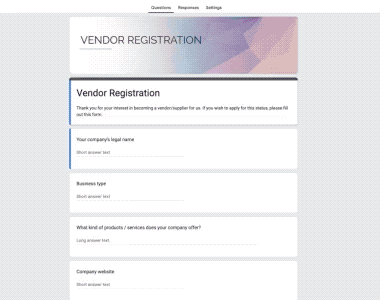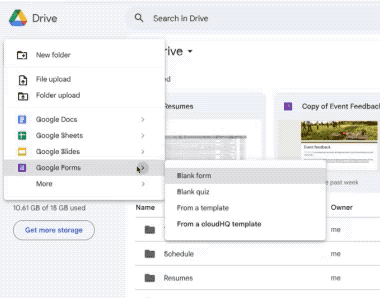 Fully Integrated With Google
Google Forms Templates by cloudHQ is fully integrated with your Google Drive. You don't have to download anything to your hard drive because everything works directly within Google Drive.
Install the Google Forms Templates by cloudHQ Chrome extension.
Access the templates in Google Drive by clicking "New" –> Google Forms –> Templates by cloudHQ.
Make a copy of the Google Form template, and customize it as desired.
Effortless Data Collection with Google Forms Templates
Gone are the days of laborious data collection tasks that consume valuable time and effort. Embrace the power of Google Forms Templates to simplify and streamline your data gathering processes. These professionally designed templates offer a wide range of ready-to-use forms, eliminating the need to start from scratch. Customize your chosen template to suit your unique requirements and enjoy a seamless, user-friendly experience. With Google Forms Templates, you can focus on what truly matters: analyzing and leveraging the collected data to make informed decisions and drive your organization's success.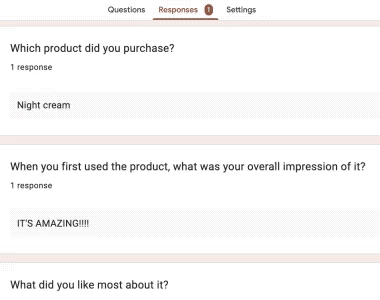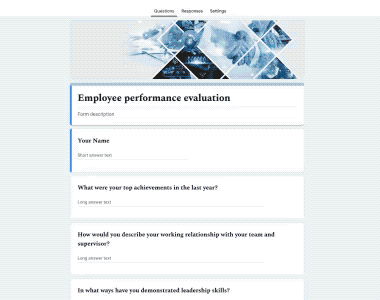 Professional Design Consistency
Achieving and maintaining a professional and consistent design across all your forms is now a breeze. These expertly crafted templates not only ensure that your forms look visually appealing but also preserve your brand identity throughout your data collection process. You can easily create cohesive and visually engaging forms that reflect your organization's unique style and branding. Bid farewell to inconsistent design and scattered branding efforts, and embrace the ease and professionalism that Google Forms Templates by cloudHQ brings to the table.
An Easy Way to Customize and Make Your Own
Google Forms Templates make customizing and creating personalized forms a breeze. With the user-friendly interface, effortlessly edit designs and content to suit your unique needs. Embrace the simplicity of transforming well-designed templates into your brand-aligned Google Form.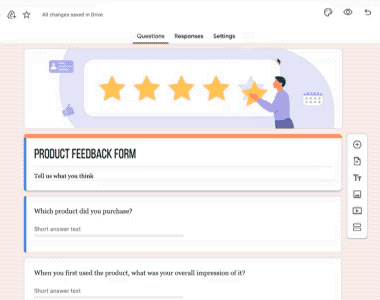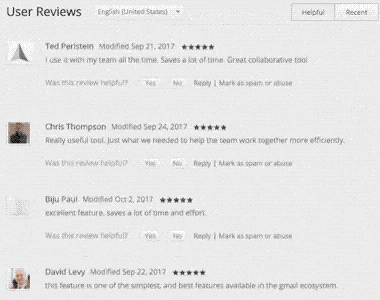 Near Universal 5-Star Ratings
Google Forms Templates by cloudHQ has almost universal 5-Star ratings from users who've downloaded it in Chrome and Edge.
Installs in Seconds
Install Google Forms Templates by cloudHQ from the Chrome Web Store or the Microsoft Edge Store. Once installed, the app will seamlessly integrate into your Google Drive account.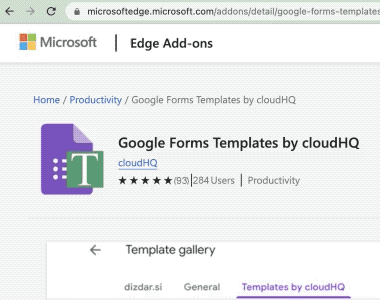 ---
Who Uses Google Forms Templates by cloudHQ?
Small business owners
Small business owners use Google Forms Templates to create customer feedback forms, order forms, or even employee work summary forms, helping small business owners streamline their daily operations and improve their productivity.


Educators
Teachers and academic institutions can benefit from Google Forms templates designed for quizzes, course evaluations, parent-teacher conference scheduling, and homework submission forms, making the educational process more organized and efficient.
Sales Professionals & Marketing Agencies
Marketing agencies can utilize Google Forms Templates for market research surveys, client intake forms, and event registrations, helping them gather insights and manage client interactions effectively.


Anyone Needing Data Collection
Companies that require data collection for contact information, request info, registration, or lead generation can benefit from the variety of templates available. These forms can be customized to capture essential details, allowing businesses to manage data and generate leads seamlessly.