Google Forms Templates
Hundreds of free Google Forms templates
Business proposals
Resume templates
Cover letter templates
Invoice templates
Lesson plans
Newsletters
Flyers

Install Google Forms Templates
Integrated into Gmail No extra software!

Google Forms templates for free for commercial and non-commercial use.
Check out our template library!
Fully Integrated With Google Drive
Google Forms Templates by cloudHQ is fully integrated with your Google Drive. You don't have to download anything to your hard drive because everything works directly within Google Drive.
Simply go to your Google Drive
In the top left hand corner, click on +New →Google Forms→From cloudHQ template
Scroll for the template you want, make a copy and customize it!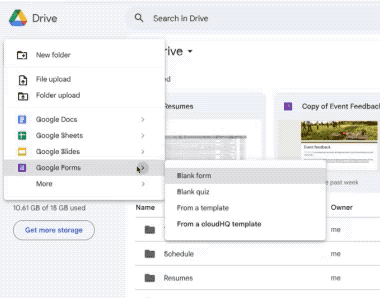 Install Google Forms Templates
---
Who Uses Google Forms Templates?
Small business owners
Having a Google Forms template to get you started in the right direction of your: brochures, invoices, business plans, and so more, is the easiest way to get the job done, and get it done efficiently.